You've got the 'Dressmaking Bug'? Congratulations! Now what? It seems for every technique, like darts, there is an infinite amount of techniques to make them! That is because as long as it does its purpose (to shape a straight piece of fabric into a more curved and body-shaped piece of fabric), then how you mark, form and finish a dart is entirely up to you. However, knowing what patterns to choose, where to find help and what to actually make can be a mine-field. But help is at hand, if you know where to look for it and how to work through looking for solutions. Picking a pattern: When
choosing a pattern
that you are going to make, some things can put you off, can daunt you and leave you hanging in limbo of what you want to make and what you know you can make. Often, the terminology can be totally alien (especially if the pattern is American)- why not having a look on the internet at a few of the big pattern companies websites like Simplicity, Vogue, Colette Patterns, Butterwick and read the back of the envelope. Would you know what it meant if there were two different amounts of fabric required for fabrics 'with nap' and 'without nap'? No? Then research a bit before you go and be disappointed with a pattern shopping spree. Jot down some terms that you have spotted on the back of patterns that you don't understand and then look them up later in a book or a Google search. If you're watching the pennies but are desperate to carry on sewing, think savvy and smart- look at the fabric requirements of the items of clothes that you like as it can vary drastically. A dress can easily be made out of 2 metres of fabric or out of 4.5 metres of fabric depending on the complexity, style and the fabric that you choose. Also, pick dresses that you like the style of. I had a long hard look in my wardrobe- this was after making bits and bobs that I was not happy with and had little place for in my ways of wearing clothes. It then dawned on me that I had not married the pattern with the fabric and thought about the overall result. I had liked the pattern and liked the fabric individually but the amalgamation of the two into a dress had left me underwhelmed. I had a look at how I dress and what my style was and what changes I would like to make to it. Now I know that I have lots of colour in my wardrobe with navy and brown plains, I would like a more retro theme in there and I love dresses! Finally, remember your level of expertise. Frustration, annoyance and disappointment have all been felt by me when I have picked a pattern to get my teeth into, to wow my friends, family and myself but actually I had bitten off more than I could chew with not knowing my limitations and knowing how to do the skills or working with the fabric that it required. Believe and strive for getting the basics right first and then going ballistic with the couture techniques- do you know and have completed a sleeved top, with easing and good fit? Then why are you trying (and having a headache about) lining a dress? Making the garment: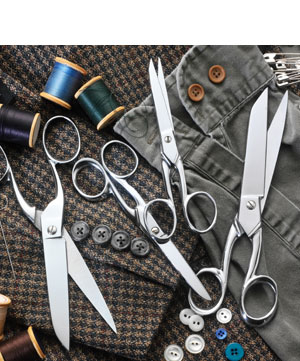 So you're home, you've bought the pattern you liked and the
notions required
are rattling around in your shopper, you lay out your
fabric
, you get out the pins, your shears, the chalk and then you open page one of the instructions and you suddenly realise that you have no idea what 'cutting on the bias' means. Help is at hand! Scrape the ground of the dressmaking-mountain and a volcano of information will explode in front of you. Blogs Written by enthusiasts on a subject of their passion and they're writing as if it was a diary. Expect reflection, honesty, discussion and tutorials. Follow the blogs that 'ring true' to you and comment where you feel that you could 'say something'! Google Search 'Google'- if in doubt... 'Google it out! You will find YouTube videos, blogs, Wikipedia definitions and shops, all brimming with an excerpt on information about 'cutting on the bias' or whatever you may be stuck with. Twitter There are some passionate people out there in regards to dressmaking, fabric, sewing and crafts. Follow some fanatics and see where they are going with their sewing, if you think that they could help with your quibble tweet a problem or tweet to them specifically, you'll be surprised with your helpful responses. Shops Dressmaking shops are ever so helpful, I have often sent a request for a fabric quibble to an online shop of whether they have a fabric I am looking for (what the pattern says is ideal) and if they could think of an everyday alternative that they could help me with. Books Last, but by no means least -
a book on sewing or dressmaking
is a great reference and always available to you, internet or not! Look for a book with techniques explained like darts, pleats, zips, sleeves etc. To find your book, have a look on book websites where honest and open customer reviews are on the site. Reflecting: Finally, reflect on the finished garments that you make. Take pictures of the piece and write about what you like and don't like about it, think about what you have done well on and what you can improve on. Dressmaking will eternally bring you challenges, there is no 'cracked it' in Dressmaking- you will forever be learning something new. Think about writing a diary or even an online blog, this may seem self-indulgent but there is an amazing variety of blogs and bloggers out there who would happily read and help you to work out the pros and the cons of your creations and actually writing down what you have created (warts and all) will help you to not make the same mistakes next time. Some tools that I have found invaluable when dressmaking: •
Chalk Pencils
, can be sharpened like a normal pencil so you can have crisp sewing lines for sewing •
Pins and cushion
. A variety of pins is great. How about a little project of making your own wrist pin cushion? Very handy and also a good way to get creative sewing juices flowing! •
Pinking Shears
, a great finish to a lot of fabrics. Looks professional but also handmade/ couture •
French Curve
, very handy! Great for accurate curved seamlines, pattern adaptations and tracing patterns •
Quilting Ruler
: Bias tape making, piping, tracing patterns • Shears (for fabric) and
Rotary Cutter
. I love my rotary cutter! I am an advocate for them, but the choice is yours! •
Hem Gauge
, 5/8" hems are hard to measure by hand, it is a standard American hem, roughly 1.5cm I will be working through a very classic and adaptable dress pattern and turning it into 5 different dresses: First Dress: Retro! Second Dress: On trend Third Dress: LBD Fourth Dress: Day Dress Fifth Dress: Wedding Guest Next Month: Retro! Caffy is a dressmaking enthusiast - going from complete novice to couture seamstress, for more information follow her blog
here
Caffy will be writing monthly articles for us at Abakhan.