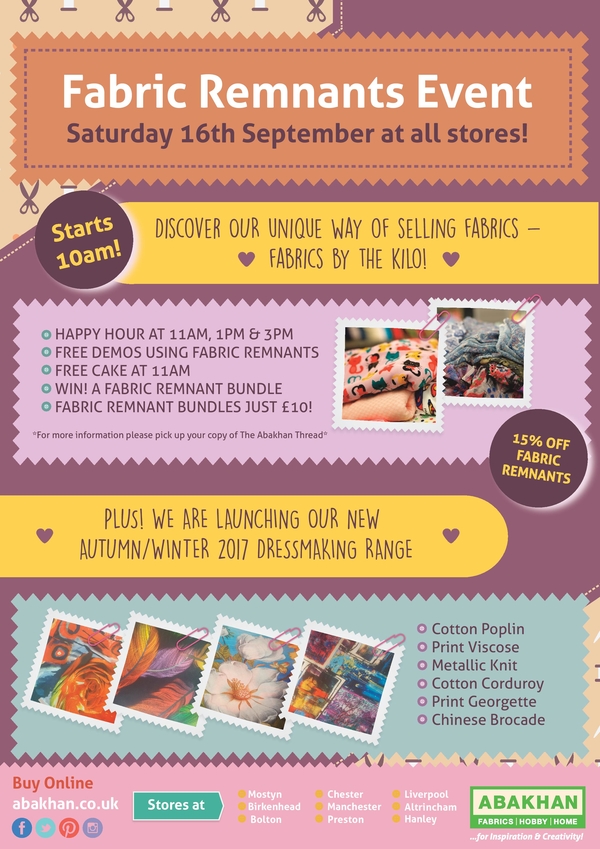 Join us for our Fabric Remnants Event at all stores on Saturday 16th September from 10am!
We have:
- Free demonstrations
- Free cake
- 15% off fabric remnants from 10am
- Happy hour at 11am, 1pm & 3pm where selected fabric remnants will have 25% off
- Special offer remnant bundles for just £10!
Plus! We are launching our NEW Autumn/Winter range of dress fabrics! Lots of new fabrics including Cotton Poplins, Print Viscose, Metallic Knits, Cotton Corduroys, Print Georgette, Chinese Brocades and more!
Join our
Facebook Event
to keep up to date with all the details
FREE DEMO LIST
Mostyn
10am - 12.30pm - How to Make a Simple Dress
10am - 12.30pm - Simple Bag Making
1pm - 4pm - How to Make a Jersey Dress
1pm - 4pm - How to Make Christmas Decorations
Chester
10am - 12.30pm -How to Make a Waterfall Wrap
1pm - 4pm - How to Make a Table Runner
Preston
10am - 12.30pm - Simple Cushion Covers
1pm - 4pm - How to Make an Apron
Bolton
10am - 12.30pm - How to Make a Simple Skirt
12pm - 3pm - How to Make a 'Quiet Fabric Book'
1pm - 4pm - How to Make a Fabric Storage Bin
Hanley
10am - 12.30pm - How to Make Simple Pyjamas
1pm - 4pm - Sewing with Stretch Fabrics -Children's Leggings
Liverpool
10am - 12.30pm - How to Make an Advent Calendar
10am - 12.30pm - How to Make Leggings
12pm - 3pm - Accessorise for Halloween
1pm - 4pm - How to Make a Circle Skirt
1pm - 4pm - How to Make a Reversible Skirt
Birkenhead
10am - 12.30pm - How to Make a Teepee
1pm - 4pm - How to Make a Christmas Tree Skirt
Altrincham
10am - 12.30pm - How to Make a Patchwork Cushion
1pm - 4pm - Simple Bag Making
Manchester
10am - 12.30pm - How to Make Simple Curtains
1pm - 4pm - How to Sew with Stretch Fabrics – Leggings