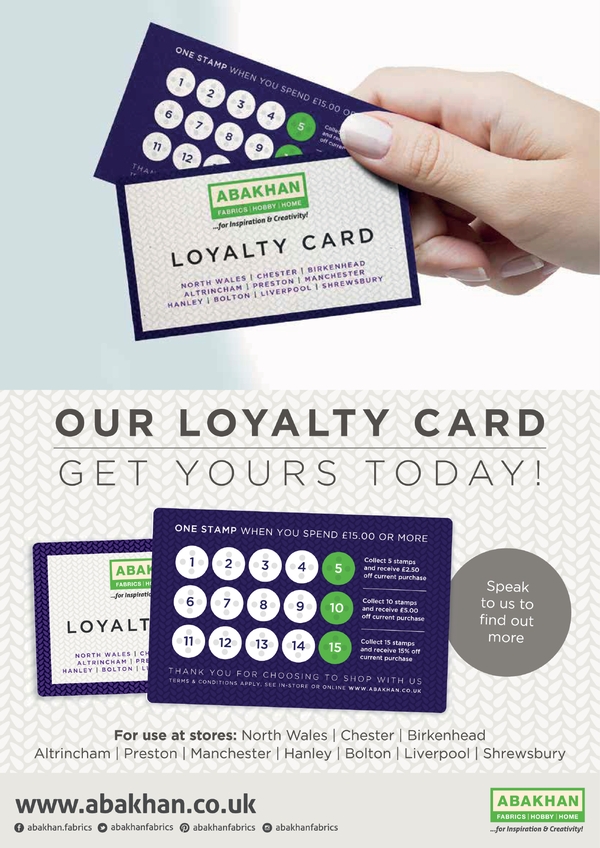 Pick up your new Loyalty Card available at all stores from Thursday 1st November! We have listened to customer feedback and our rewards have now changed and we offer instant savings!
One stamp when you spend £15.00 or more in-store
Collect 5 stamps and receive £2.50 off current purchase
Collect 10 stamps and receive a £5.00 off current purchase
Collect 14 stamps and receive 15% off your 15th transaction
For store details please click
here
_______________________________________________________________________
By signing up to the loyalty Card programme, you agree to the following terms and conditions:
• The Loyalty Card is available for use at all stores
• The Loyalty Card can not be used online
• Stamps are allocated at a rate of one per transaction (irrespective of value)
• We can use your details for marketing purposes
• Lost or stolen cards cannot be replaced
• We reserve the right to withdraw or terminate the Loyalty Card programme without prior notice
• We reserve the right to substitute rewards with alternatives
The following items/services are excluded from both the qualifying spend per stamp and the 15% off your 5th transaction:
• Sewing & Craft Classes
• Made-to-Measure Service
• Gift Vouchers
• Food & Drink items at Mostyn, North Wales including any food products in the Gift Shop
• Postage, Packing and Handling Charges where applicable
• The 15% discount off your 15th transaction is not available in conjunction with any other discount or promotional offer
We will never pass on your details to anyone.