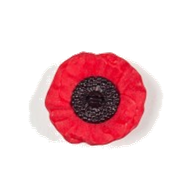 Perfect for Remembrance Sunday these Poppy Buttons come in two sizes 28mm and 41mm.

These beautiful buttons can be sewn onto hats, coats and bags, providing an elegant way to commemorate Remembrance Day.

A 10% donation will be made to the British Legion for every button sold.

Display it with pride.
Buy yours here