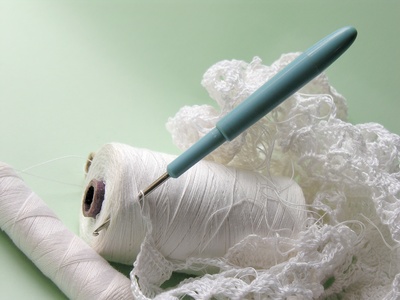 Crochet: the perfect hobby for all you nutty knitters looking for an additional challenge, or for anyone looking for a fun and easy to learn new craft.
Crochet is the art of creating products from yarn, thread or other materials (such as wire) using a crochet hook. Like knitting; it requires you to pull loops through other loops and to make your finished article, but unlike knitting it's all done using only one needle rather than two.
All you need to get started is a crochet hook, some beautiful yarn, a pattern (once you've mastered the basics) some patience and you're good to go!
Which Hook?
A crochet hook is a needle with a hook at the end, which is used to draw yarn through knotted loops. Hooks are available in a wide variety of materials; from Birchwood to Bamboo, although metal hooks are probably the most widely available and a good place to start for anyone new to the craft.
The next thing to consider is the size of the hook. Generally speaking the smaller the hook, the finer the yarn and the more delicate your finished article will be. A larger hook with some thicker yarn or wool would be a good for beginners.
Your crochet pattern, once you are feeling confident with the basics, will direct you to the hook size required for the project.
Yarn
From wool to silk to wire, the possibilities are endless. Beginners will generally find wool or a sturdy crochet thread in your favourite colour easy to learn with. As before, once you are confident enough with the basics to follow a pattern, the pattern will guide you to the type of yarn suitable for the project.
Have a look at the beautiful yarns available with Abakhan here. They have a lovely soft texture and are very easy to work with.
Getting Started.
A slipknot and chain stitch are excellent first stitches to learn. There are several online tutorials available to show you how to do these. Or, you could sign up for a three week beginners crochet workshop, led by an expert, to join likeminded folks on your crochet journey. What better way to learn?
The next 'Learn to Crochet' Workshop is in Liverpool in September 2012.
Next Steps.
Already handy with a hook and creating super stitches? The opportunities are now endless. Take a look at this beautifully illustrated book showing you how to create adorable crochet toys.
Or take a look at the details of the next 'Continue to Crochet' workshop in Mostyn, North Wales, starting in September 2012.
Get the kids involved with this cute crochet jewellery kit; something to keep the little ones occupied during the long summer holidays?
You can always rely on Abakhan for creative, crafty inspiration - Happy Hooking!