Ten knitting tips for beginners
There's always a buzz around the Abakhan Café in Mostyn when our Knit and Natter group meet on a Thursday morning. With a mixture of very experienced knitters and some who picked up their needles relatively recently, there's always plenty of advice being shared, amidst the chatting and cappuccinos. We caught up with the ladies to ask for their top 10 snippets of advice for anyone new to knitting.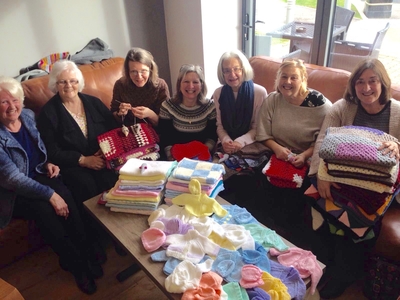 1. A word about needles:
Don't buy the cheapest needles available if you are new to knitting or picking it up again after a few years. Cheap needles can be enough to put you off knitting for life!
2. Metal needles don't suit everyone:
Bamboo needles by brands such as Clover can be a Godsend if you have arthritis in your hands but don't want to give up knitting. One of our ladies swears by knitting for helping keep her hands mobile despite arthritis.
3. Visit your yarn shop:
These shops are sadly becoming quite rare, but the staff can be a treasure trove of advice on different yarns and patterns.
4. Be realistic:
Don't expect to create a fabulous garment on your first knit or be too hard on yourself if it's not perfect. You don't expect to create a gourmet meal if you've never boiled an egg! Knitting is the same, it takes practice and patience.
5. Simple is best to start with:
A simple pattern, some smooth double knitting yarn with a pair of 4mm needles are all you need to get started.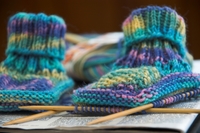 6. Make a swatch: As you progress on to more complex patterns you need to make sure that the tension is right and the best way to start is to make a swatch.

7. Check your abbreviations: When you get a new pattern read it through before you start. There will be a section on abbreviations as these can vary between patterns, so a couple of minutes reading can save a lot of pain later!

8. Make notes: It always pays to keep a knitting notebook and keep track of exactly what you've done row by row. If something doesn't go quite right, you can look back over your notes and see exactly what went wrong.

9. Go online for tips: YouTube has lots of videos to help you get to grips with the basics and move on to get new skills. There are also some great forums, such as www.ravelry.com where you can get advice from knitters across the globe, plus patterns and recommendations for yarn etc.

10. Join a knitting group: We may be biased, but these groups are a fantastic way to get advice and make new friends with a similar interest. Just a short while ago, none of us knew one another in the Abakhan, Mostyn group, and we now have a circle of knitting friends that we look forward to meeting up with once a week. You could say we just 'clicked!'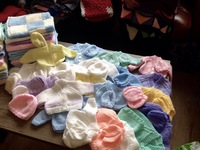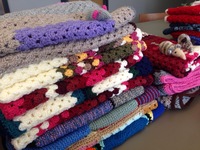 The Abakhan Mostyn Knit and Natter group meet at Thursday morning at 9.30am in the Café and are always happy to welcome new people. The group are currently knitting blankets and bonding squares for the special care baby unit at Ysbyty Glan Clwyd, as well as dog blankets and knitted mice for North Clwyd Animal Rescue. They would welcome donations of balls of wool or knitted squares for the dog blankets, which can be dropped off at Abakhan.